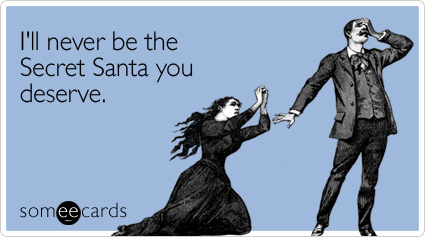 Where did the idea of Secret Santa come from? Well, the history of Secret Santa is as sordid as they get. The twisted hero of this bizarre tale is philanthropist and kind-hearted man, Larry Dean Stewart. Born in 1948, down on his luck, hungry and broke, he was given money for a meal. I warned you - this is disturbing, sick stuff. Anyway, so this Larry Dean Stewart, like in a typical
Horatio Alger story
, became rich and decided to "
give back to the community
." And so the Secret Santa idea was born.
I'll spare you the details, but if you want to find out more, you can find out more about Larry Dean Stewart's
unbridled, obsessive gift-giving here
. In fact, if you're extra-curious, here's a whole website dedicated to the
Secret Santa World
. However, if words ain't your thing, here's
a good crudely-illustrated account
of the whole thing.
Bottom line, little did Larry know that his good-willed idea would turn into the monstrosity that is the office Secret Santa gift exchange. But, as we all know, the
road to hell is paved with good intentions
. Might as well move on, and figure out how to handle this awkward office tradition.
I would fail you, dear readers, if I did not provide you with some tips for preparing for the Secret Santa at work. So, without further ado, a few pointers:
1) Go for mid-range with the price.
If everyone spends around $20, don't get Rufus the mail clerk a Rolex watch to make a statement. Conversely, if everyone spends around $20, don't get Cathy the secretary a bag of peanuts because she likes to snack occasionally. Usually, the gift price is established beforehand which should give your ideas direction. Obviously, if you work on Wall Street your Secret Santa gifts are going to be a little different than if you work as an office clerk at a non-profit organization.
2) Don't use Secret Santa to get laid or to get even.
The central idea behind Secret Santa is anonymity. Everyone gets something they kind of like, but nothing too nice, god forbid. All social interaction in a corporation is supposed to be neutral. You don't want to piss someone off and risk a lawsuit. So, don't get sexy Candy a
little lingerie
. Conversely, don't get douchebag Rick a bag of coal. If you really don't like someone and no one will switch Secret Santas with you, then just get 'em an ugly scarf.
3) Don't use Secret Santa try to get a promotion.
If Christmas is not about something, it's ass-licking. Also, getting your boss a really expensive gift to get ahead is the moral equivalent of bribery. And though the corporation doesn't care about morality because it has no fixed price, you do have to somehow sleep at night. So just don't do it.
4) Don't get your co-workers office gifts.
It's not clever to get someone an automatic stapler. It's even less clever to get someone an electric pencil sharpener. Nice pens are still acceptable for some reason (even though god knows we type everything), but rulers, paper clips, sharpies, post-its, white-out, index cards, file folders, 24lb blue paper, stamp ink, invisible tape, cleaning wipes, 5/8" steel binders and toner cartridges are just a
faux-pas
.
5) And now for some good office gift ideas.
Scarves
generally work for some reason.
Fine chocolates
. If you know the person well, a
bottle of booze
might be the right thing. Gift certificates are always a hot item.
Desk calendars
. Finally, everyone always stays neutral over a
nice pen
.
Here are a few more tips from other sites. For instance, here's a write-up on
Fox News
. Shockingly, they advise against getting alcohol and they take everything way too seriously. But that's Fox News. Here's
Esquire's
take on the subject, which is slightly more promising - their first recommendation for a gift is buckyballs. They have some good suggestions (Ethiopian coffee) and some not-so-good ones (anti-theft reusable lunch bags), but overall you can get good info here.
If you have any other suggestions or ideas, post 'em!
Oh yeah. Don't get your co-workers mousetraps.